Mithril is a resource in the Mining Collection that can be obtained in the Dwarven Mines by mining Mithril veins, using a pickaxe with Breaking Power 4 or higher.
Collecting mithril increases the player's mithril collection and can grant useful items or perks upon collecting a specific amount of mithril. Mithril collection contains many good recipes, including Dwarven Super Compactor and Beacons.
Mithril Collection

2

3

4

5

6

7

8

9
Mithril can be mined from Mithril Veins, where the inside is harder to break and gives more Mithril, but the outside breaks quicker and gives 1 Mithril. From the easiest to hardest to mine, these veins are made of Cyan Hardened Clay, Gray Wool, Dark Prismarine, Prismarine Brick, Prismarine, and Light Blue Wool. All ores in the vein give 45 mining XP. However, there are some veins which are not purely Mithril and give only 20 mining XP.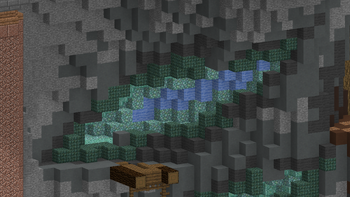 Mithril Vein
The amount of Mithril players receive from mining ores is as follows:
Ore
Multiplier
Cyan Hardened Clay
Gray Wool
1x
Dark Prismarine
Prismarine Brick
Prismarine
2x
Light Blue Wool
5x
NOTE: these multipliers apply multiplicatively with Mining Fortune.
Mithril is used to upgrade Mithril Minions, craft Enchanted Mithril, and create Refined Mithril in The Forge.
Mithril sells for a relatively high amount of money at the Bazaar and therefore is a good money making method for early game players.
Mithril is a material from J.R.R Tolkien's Middle Earth universe. Dwarves forged it into armor that cannot be pierced by even the strongest blades. This is referenced not only shown by the name of the ore but also by the Mithril Coat, a direct reference to Tolkien's Middle Earth Mithril.
Mithril is also an ore in Terraria.
Mithril Collection
Community content is available under
CC-BY-SA
unless otherwise noted.