Obsidian is a Common vanilla crafting block.
Obtaining
[
]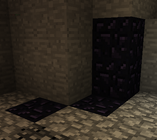 Naturally breakable Obsidian generates in the Obsidian Sanctuary, The End and Dwarven Mines. Mining Obsidian with Pickaxes / Drills with at least 4 Ⓟ Breaking Power grants +20

 Mining XP. Obsidian can also be generated on the Player's Island by having Water flow over a Lava source block, or it can be made by dumping Lava into the corner of a 2x2 pool of water.
Obsidian can also be obtained via killing an
Obsidian Defender in The End. It can also be obtained through Nether Wart Island, which is unlocked at Netherrack I. All these ways contribute to the Obsidian Collection.
Collection
[
]
Collecting obsidians increases the player's obsidian collection, which grants useful items and perks upon collecting certain amounts of obsidians.
Obsidian Collection

2

3

4

5

6

7

8

9

10
LVL

Required

Reward
I
50
 Obsidian Minion Recipe
II
100
 Enchanted Book (Lethality

IV

) Recipe
III
250
 Gravity Talisman Recipe
IV
1,000
 Enchanted Obsidian Recipe
V
2,500

Coming Soon

Coming Soon
VI
5,000
 Stun Potion Recipe
VII
10,000

Coming Soon

Coming Soon
VIII
25,000
 Treecapitator Recipe
IX
50,000
 Obsidian Tablet Recipe
X
100,000
 Reforge Anvil Recipe
Usage
[
]
Crafting Ingredient
[
]
Brewing ingredient
[
]
History
[
]
Obsidian Collection
The End
Sub-Locations
Mobs/Bosses
Mob/Boss Drops
Resources
NPCs
Related