Raise a Floppa - The Loop
Play Sound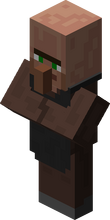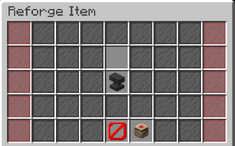 Reforging is a mechanic that allows the player to add additional stats to Weapons and Armor, similar to Enchanting. An item can have only one reforge at once, but they can be replaced. Reforges provide greater stat boosts the higher the Rarity of the item is.
Usage
[
]
Items can be reforged in the reforging menu, accessed from the Blacksmith or from a Reforge Anvil. The player can apply basic reforges to weapons, armor pieces, or tool for a price depending on the rarity of the item.
The reforge given is random, with all reforges having the same chance to be rolled. Players will know the reforge given only after the reforge has been paid for. The cost of reforging will scale on the Rarity of the item. The extra stats provided by the reforge also increase with rarity.
Players can open the advanced reforging GUI by interacting with Malik at the dungeon entrances or using a Reforge Anvil on the player's private island. This feature allows players to apply Reforge Stones to their items for a cost in order to get the corresponding reforges on them.
The stats from Weapon, Tool and Armor reforges apply only while holding or wearing it.
When a weapon, an armor piece, or a tool is upgraded, its reforge is usually kept. However, there are some exceptions, such as a Vampire Mask and a Witch Mask upon merging to a Vampire Witch Mask. Players can hover on the output slot of the crafting table to see if the reforge is going to be kept or not.
Reforge Stones
[
]
Reforge Stones are items which grant special reforges to Armor, Weapons, or Tools. They can be applied by talking to Malik the Blacksmith or using the Reforge Anvil and paying the fee to apply. They can be obtained through various means, such as mining, Dungeon Post-Boss Chests, or a drop from most mobs.
Prices
[
]
The player's first Reforge is available for 10 Coal, but all subsequent Reforges will cost the player Coins based on the item's Rarity. The prices are as follows:
Notes:
During the first week of the reforging rework (July 1, 2020 to July 7, 2020), all prices were halved to allow for a smoother transition between the old system and the new system. However, it was extended and being removed in the 0.9.8 Update.
List of Reforges
[
]
Mobile users may be unable to see the reforge stat tables because of wiki styling limitations. Please switch to desktop view in order to see them.
Note: Some higher level stats cannot be found in these tables but might be seen on Reforge Stones' individual pages. Please help to add higher level reforge stone stats!
Stat Abbreviations
To make everything fit on the tables below, stat names have been heavily abbreviated; this table explains what these abbreviations are (alternatively, hover over the stat for a tooltip with the name).
Duplicate Prefixes
[
]
In addition to the reforges mentioned above, some Armor or tools share a name with certain reforges. To avoid repeats ("Wise Wise Dragon Armor"), they use a different prefix (except "shiny" Shiny Yellow Rock). They still have the same stat bonuses.
Recommended Reforges and Combinations
[
]
Trivia
[
]
This mechanic may be a reference to Terraria, as the game has similar reforging mechanics and names. A full list can be viewed here.
The custom prefixes apply only to Armor pieces and Pickaxes, so it is possible to obtain a "Shiny Shiny Yellow Rock".
Before 0.8, the only reforge that had its stats in a different color instead of gray was Godly, with its stats being red. Now, all reforges are colored blue.
The very first reforge on a profile costs 10 coal instead of coins. Reforges continue to cost 10 coal until the player takes an item out. Replacing the item within will also keep the cost at 10 coal.
Prior the Crimson Isle's update, you could reforge accessories.
History
[
]
SkyBlock Prototype
June 11, 2019
0.1
Added Reforging.
Aug 2, 2019
0.7
The Itchy reforge no longer gives

 

Crit Chance

.
Itchy reforge

 

Crit Damage

nerfed from 3/7/12/18 to 3/5/8/12.
Dec 18, 2019
0.7.5
Added Salty and Treacherous reforges.
July 1, 2020
0.7.11
Overhauled Reforging.
All reforges available from the Blacksmith now have the same chance to be rolled.
Reforges that could have been applied to any reforgeable item (Godly, Itchy etc.) can now only be applied to Accessories.
Other reforgeable items with old reforges keep the reforge.
Nerfed most Accessory reforges; only Unpleasant gives

 

Crit Chance

.
Buffed most armor and weapon reforges; increased

 

Crit Chance

for most of them.
Added Reforge Stones, which apply special reforges to items in Advanced Reforging for a price.
Added Spiked, Fabled, Renowned, Cubic, Silky, Warped (armor), Reinforced, Magnetic and Fruitful reforges.
Added an option to reforge the whole Accessory Bag at the Blacksmith or with a single Reforge Stone for a discount.
Added the Reforge Anvil, which can perform Advanced Reforging on a private island.
Halved reforge prices temporarily in order to let players test new builds.
The Reforge button at the Blacksmith can be pressed 2x faster (from 1.0s to 0.5s).
July 7, 2020
0.8
Added Necrotic, Perfect, Undead, Gilded, Bloody, Precise, Ridiculous, Loving and Suspicious reforges.
Reforge stats now show as blue text in the item description instead of the previous Dark Grey (Red for Godly).
July 8, 2020
Fixed Gilded reforge granting

 

Crit Chance

instead of

 

Damage

.
July 30, 2020
Added Spiritual reforge.
Sep 17, 2020
0.9.1
Added Shaded and Warped Stone (Aspect of the End) reforges.
Sep 17, 2020
0.9.1
Changed name of Warped Stone to Warped.
-10

 

Damage

on Warped (Aspect of the End) reforge (from +175 to +165).
-10

 

Strength

on Warped (Aspect of the End) reforge (from +175 to +165).
Oct 1, 2020
0.9.4
Added Empowered and Giant reforges.
Oct 20, 2020
0.9.8
Added Moil, Dirty, Toil, Refined and Blessed reforges.
Returned reforge prices to normal.
Oct 30, 2020
0.9.9
Added Sweet and Candied reforges.
Nov 17, 2020
0.9.13
Added Ancient and Withered reforges.
Jan 15, 2021
0.11
Added Fleet, Mithraic, Auspicious and Stellar reforges.
Jan 18, 2021
Existence of Headstrong reforge leaked through Jayavarmen's inventory.
Feb 16, 2021
0.11.1
Added Headstrong reforge.
Mar 9, 2021
0.11.2
Fixed bug preventing players from reforging their accessory bag.
Apr 21, 2021
0.11.4
Added Bountiful, Stiff, Bulky and Lucky reforges.
The Reforge Anvil can now perform basic reforging.
May 27, 2021
Fabled Bonus is buffed by 5% (from 20% to 25%)
June 1, 2021
Fabled Bonus reverted to 20%.
July 14, 2021
0.12
Added Jaded reforge.
Oct 5, 2021
Can now filter by rarity when reforging the entire Accessory Bag.
Feb 2, 2022
Fabled Bonus is nerfed by 5% (from 20% to 15%)
Apr 1, 2022
Added Double-Bit, Lumberjack's, Great, Rugged, Lush, Green Thumb, Peasant's, Robust, Zooming, Unyielding, Prospector's, Excellent, Sturdy, Fortunate reforges.
Reforge Revamp Update Changes
[
]
These images show how the reforge revamp changed the stats on various reforges that existed at the time.
References
[
]